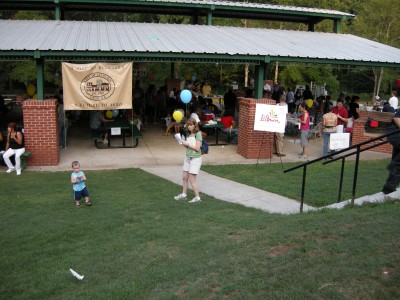 Last year I wrote a nice little post about Lilburn…  This is a really nice place to live, and I thought it might be fun to dive into the history of the town.  It certainly is interesting, as are the histories of many of the localities around Gwinnett County, GA.
I'll let you read the post to find out that history, but I wanted to add a little bit to it…
My wife and I have made this area of Gwinnett County, GA,  our home for the last nine years… and she lived nearby, in Tucker, prior to that.  We decided to stay here to raise our two boys, as well.  And we are constantly glad over that decision.
A couple of weeks ago, while at the Arcado Elementary School Night at the local Chick-fil-a, there was a constant stream of friends and neighbors chatting and catching up.  A week before that, at a Family Night event, it was much the same.  During trips to the grocery store, we run into the parents of classmates of our kids, clients, friends and neighbors.  A trip to the park is much the same.
All of that is to say that there is a tremendous sense of community here.  Belonging.  Acceptance.
A few months ago, a little boy named Al suffered life threatening burns.  The community rallied to his support, hosting fund-raisers and looking for other ways to help his family during their time of need.  Al has made an incredible recovery, and has actually been able to return to school.  But the outpouring of support hasn't waned.
A visit to a Parkview High School football game or even a quick run up to Bruster's Ice Cream yields a similar result… friends, neighbors and others we know from the community are there with warm greetings.
This is a wonderful place to call home.  If you'd like to live here… give me a call.  Lane Bailey.  678-200-5895.
Related articles