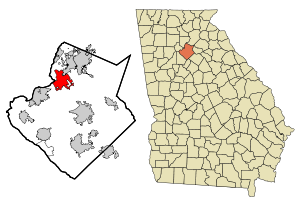 Market stats for Suwanee, GA, September, 2012 indicate that there were 384 properties on the market (down from 406 last month).  Overall, there was about a 4.0 month supply of properties (virtually unchanged from last month).  September had 78 sales.  Compared to September, 2011 (79), this year flat, but inventory was down compared to 2011 (579).  There were 111 sales last month, so this month was down substantially.
In the Under $200k arena, there were 107 listings in Suwanee, GA, with about a 3.1 month supply (compared to 5.8 month supply last year).  This August's sales were 32 (28 last year, 37 last month).  It used to be a county leader, though, for now it is moving back to one of the best price/locale segments again.  The next level up is coming up fast, though.  Sales may have been limited by constricted inventory.
Between $200k and $400k, there were 168 listings for sale (274 last year, 192 last month), and 3.4 months of supply.  Sales in August, 2012 were 38 (61 in August), compared with 32 for the same period in 2011.  Sales have been consistent and strong for the last few months, but fell off somewhat this month.  I'd like to see it stay around 40-50 sales or more for the next couple of months.  This shouldn't be a "peaky" market/price segment.  Unlike most of the county, this is the largest price segment in the area, and its direction plays a major part in how the area looks.
From $400k to $600k, there were 56 homes on the market.  The absorption rate was at 6.7 months (6.5 in August).  There were 6 sales in September (9 in August)… up from 5 last September. Looking at the three month average, there were 25 sales this year and 31 for the same period last year. This segment had gotten dramatically stronger in the last couple of months, but slacked a little the last two months.
In the $600k to $800k arena, there are 24 listings, with about a 9.0 month supply.  Sales at this level are not consistent, but there was 1 this month (1 last month).  Looking at one month makes the numbers jump around.  For the last three months, sales were 8…  For the same time last year, the sales were 11.  With the huge decrease in listings over the last couple of months, I was looking for this to become one of the strongest $600k-$800k area in the county.  It is fairly strong right now…
The range from $800k to $1m, there are 7 homes listed and 7.0 months of inventory on the market. There were only 4 sales at this price level last year (1 in April, 2 in July and 1 in August). This is a tough segment to try to sell in right now, but if inventory stays low, it won't be quite as rough. But there still needs to be some more sales activity. There was 1 sale in March this year, 1 sale in July and August and 1 sale in September.
In Suwanee, GA, Above $1m, there are 22 properties listed.  The current absorption rate indicated about 33 months of inventory, but because of the smaller numbers of sales, this could be significantly impacted by just a couple of sales (2 for April, last previously recorded).  In this segment, we should be seeing reduced inventories…  There were 28 homes listed in this segment at this time last year.  There were 2 sales in August.
Suwanee, GA is a suburb of Atlanta in Gwinnett, Forsyth and (just a little bit) in Fulton Counties. The population is 2000 was 8,725, but that only included the area inside the city limits, and it had seen tremendous growth since that census. Money Magazine rated Suwanee in the "Top 10 Best Places to Live" in 2007, and it is one of the wealthiest parts of Georgia. Recently, the City of Suwanee has revamped their old town, adding a large park with a bandshell, condos, town homes and small businesses. It is also home to North Gwinnett High School, Peachtree Ridge and Collins Hill. I have a page dedicated to Suwanee Market Data.
Related articles