Real estate is local… and one of the biggest influences in real estate is the local schools.  Great schools spur demand.  Mediocre schools lag.  People actively seek a way out of bad school districts.  It isn't the only thing that pushes value and demand, but it certainly is one of the big drivers.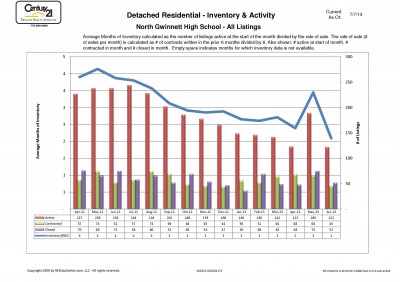 Transportation, jobs and local amenities are also drivers.  Depending on the type of buyers, things like hospitals may pull one demographic, while shopping and restaurants may pull in another.
In the case of the schools in the NGHS cluster (Roberts, Suwanee, Level Creek and Riverside Elementary; North Gwinnett Middle School and North Gwinnett High School), there is a draw from the quality of the schools.  People WANT to be in this area to have access to these schools.
Because of that, we are seeing prices push up and inventories push down.  In fact, when looking at the sales, the recent decreases look to be largely because there simply isn't enough inventory to support more sales.  So, while at first glance it may look like this area is slowing down, the problem is that there just isn't any supply to allow a higher number of sales.  The North Gwinnett Cluster consists of parts of Suwanee and a little bit of Sugar Hill.
Since schools are one of the big drivers of demand, MANY consumers search for real estate based on schools.  Unfortunately, there are a lot of homes that are incorrectly entered, causing homes that are NOT in the cluster to land in the search results… and even throwing off the statistics, as homes outside of the correct area are included in statistical samples.
Working with an agent that lives and works in the area you are interested in helps to sort out some of the chaff… but even then I see a lot of agents that have been in the market area a long time kind of "forget" that several new schools opened 3 years ago… and that the alignment and attendance zones changed.  One easy way to tell… any listing with North Gwinnett High School and Lanier Middle School together is wrong… 
If you are interested in a home in the North Gwinnett Cluster, or if you want to sell your home in the North Gwinnett Cluster, give Lane a call…
Related articles